Sale!
Hydra cream with hyaluronic acid
14,90€
Ultra-hydrating, Hydra cream moisturizes, nourishes and protects dehydrated and fragile skin. It will also meet the needs of normal and mixed skins subjected to extreme conditions (intense cold, external aggression, etc.). The natural hyaluronic acid contained in this cream forms a protective film to keep water on the surface of the skin. It's the perfect cream to moisturize, nourish and protect your damaged skin while leaving it soft and velvety!
30ml
99.2% of ingredients are naturally occurring
52.5% of whom are from Organic Agriculture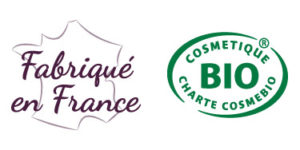 Description
The Flagship Ingredients:

Hyaluronic acid
anti-dehydrating and protective, this natural compound attracts and keeps water in and on the skin.

Safflower oil
rich in Omega 6, vitamin K and antioxidants, this oil repairs, restructures and nourishes the most sensitive skin. Fluid and light, it preserves the elasticity and hydration of the skin.

Shea butter
rich in vitamins and fatty acids, shea butter protects, softens and reconstructs the most sensitive skin.